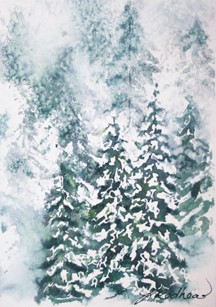 This past Sunday I taught a fun class on Painting Holiday Cards in Watercolor. This idea came about because some friends of mine make their own cards every year. In fact, they start them early in the year and spend countless hours on these little gems. I have been fortunate enough to be a recipient of these annual cards and cherish each and everyone. They are now one of the things I most look forward to at Christmas and are reserved a spot on the mantle.
These friends have since inspired me to make my own cards. I really don't have the time to make as many cards as I would like, so I have chosen to only paint 10-20 cards/year. Then I got this great idea to teach how to paint holiday cards because who doesn't love a handmade gift?
My goal was to show some techniques for simple winter landscapes that my students can then use on their own cards. Once they have these techniques mastered, they can then paint their own cards with different compositions and colors.
The above painting is just one example of what I taught.