This entry was originally posted on Tuesday, January 31, 2012.
Stretching paper is a fairly simple process.
Just soak the paper in a cold water bath for 3-5 minutes each side.
Then staple it to a board.
Lay flat to dry.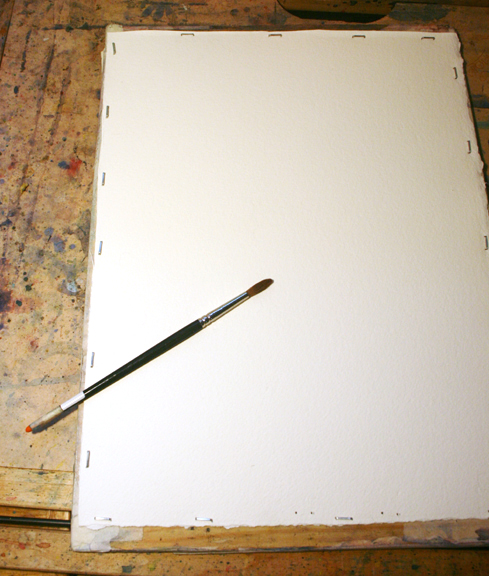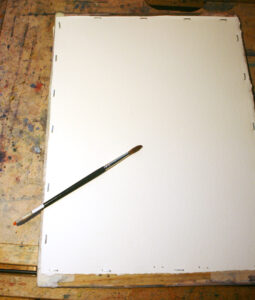 Okay but here are some more tips to help with this process.
If you soak it longer than the 3-5 minutes, the paper will break down too much and eventually the paper can disintegrate.
The board I use is just plywood (1/4″-1/2″) that has been cut to fit a half sheet/ full sheet size. I then seal the plywood with a clear acrylic paint or some old house paint in neutral color. There are chemicals in the wood that I don't want leaching into my paper and that is why I seal it. I know that there are special stretcher boards out there but I don't like them, especially for my pours.
Gatorfoam board also works if you can find it.
The stapler I use is a staple gun with 8mm staples. The larger staples tend to poke out too much and the smaller staples end up popping out while the paper is drying.
Staple about 2-3 inches apart all away around the paper.
You just lay the paper flat on the board and staple all the way around.
When you soak your paper, the paper will expand because it is 100% cotton. It then shrinks as it is drying. In the meantime, you might see it warp and bubble on the board. Don't worry. This is normal. As long as it is laid flat in a dry room, it should be fine.
I usually allow my paper to dry overnight or 24 hrs before painting on it.
Once dry, it will be nice and tight with a beautiful surface, just like a canvas.