This entry was originally posted on Wednesday, February 1, 2012.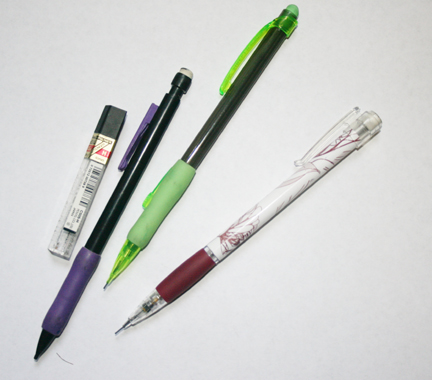 I like a sharp point on my pencil when I draw. I use to be constantly sharpening my special drawing pencils everywhere I went. I even went so far as to buy a battery powered pencil sharpener. Ha! I found that I was so concerned with have a sharp point that I never got to painting.
Then many years ago I discovered how handy mechanical pencils can be.
No more pencil sharpeners and I always have a sharp point.
Yay!
I buy packages of them and have them all over the house and in my studio now.
The lead in the mechanical pencils is usually a 2B, which works well.
Lead that is too soft tends to smudge all over your paper when you brush your hand against the paper as you work.
Extra lead for mechanical pencils is also available as an H. This is harder than a 2B and also works well.
Especially if you are a smudger.