This entry was originally posted on Thursday February 2, 2012.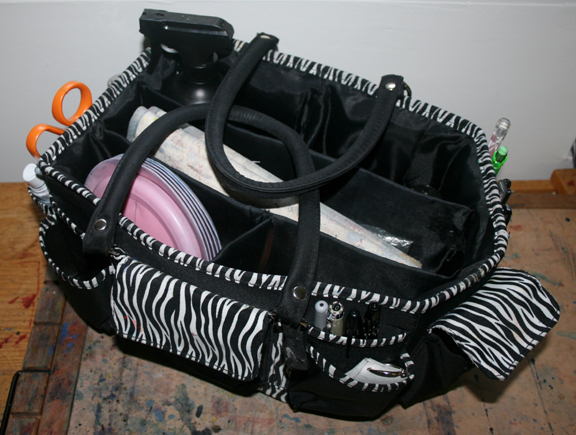 I am not an organized person but I have discovered that I need to be somewhat organized if I want to be able to paint wherever I go. Especially for plein air. I had one of those watercolor canvas bags that I use to carry around. It was too big and clumsy. So I went on a quest to find the perfect bag. It had to be small, lightweight, and it had to hold all my watercolor necessities (excluding the paper). The above it what I found. It is just a craft bag but the best part is that there is a space for everything, including my brush roll and my palette. Plus it is so cute! Bonus!
I now carry it everywhere. I even keep it by my desk in my studio. I carry it upstairs to the kitchen when I want to work while the kids are doing homework. I take on the bus. I take it to my daughter's swim meets. I take it to Spain.
It has a space for everything that I need to paint with. I now feel super organized and more efficient.
If you are not into the animal or polka dot prints, there are lightweight canvas tote bags that can be found at hardware stores. They disguise themselves as tool bags but we all know that they work best as a watercolor tote.