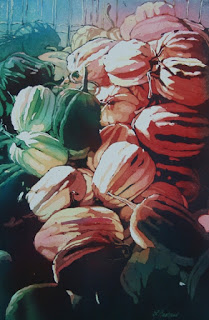 Autumn's Harvest
14×20″
Last week I taught a pouring workshop and I also did a pouring demonstration.
For my workshops, I usually prepare 3 images of the same paintings.
This is because I don't have time to work on my own poured painting while teaching.
I like to be available to help others.
I will have my painting already masked at various stages then I will demonstrate how to pour the paint.
It is also helpful for the participants to see where I have masked.
Since I have such a busy life at the moment, I thought I would simplify it a bit by using the same painting that I did for my workshop for the demo.
Autumn's Harvest is the result.
There are still a few things that need to be done before I call it complete but not much.
It may be a few more days before I can finish it though.
I have another pouring demonstration tomorrow night which I am preparing a different scene for.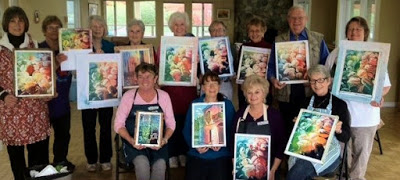 Here are some of the results from the workshop.
It was a great group and I enjoyed pouring with them.
Thank you to the awesome group for having me!