This entry was originally posted on Sunday, January 29, 2012.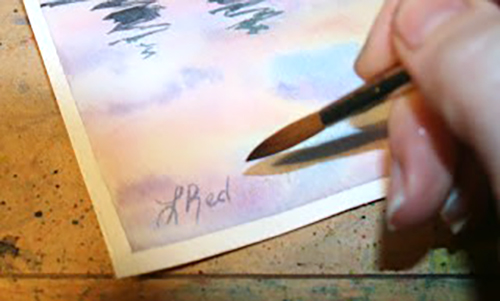 It is another Sunday so that means that I will answer another question that came into my email box this week.
Becky from Wisconsin asks,
How do you sign your paintings? With paint, marker, colored pencil??
Thanks for the question Becky.
I sign most of my paintings with paint using a brush with a good point.
I do occasionally sign my paintings with an archival ink pen such as a Staedler, Pigma, or Micron.
If you have a problem with signing your name straight, draw a light pencil line with a ruler before signing. Once the paint/ink has dried, just erase the line.
*Update:
You may notice that the signature in the photo is the start of my previous last name of Redhead. This was the photo that I used at the time I wrote the blog and the name that I used. It was my married name at the time and had nothing to do with my hair (but I did color my hair red to match the name and just for the fun of it)
However, I do not currently use the name of Redhead. Leslie Redhead is no longer the name of an existing artist – although the artist, herself, is still in existence. That being said, does the value of those paintings signed as Leslie Redhead increase? Perhaps. Perhaps not. What do you think?
As for signing my name, I still use a brush with a good point but I also use a ruling pen with masking fluid when signing a poured watercolor painting.