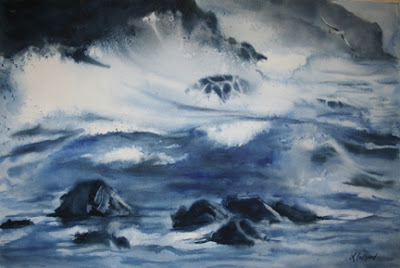 Tumultuous Seas
14×21″
Recently I have been working on how to capture crashing waves in water.
It has been so much fun to figure out and to play with how paint and water move.
It is definitely a lesson in letting go.
Using squirt bottles filled with paint, spray bottles filled with water, and other tools, I had a great time painting.
I usually use cold press paper in most of my paintings but decided to try hot press for the waves.
The slipperiness of the paper really adds to how the paint moves and I find it easier to lift and scratch away the paint.