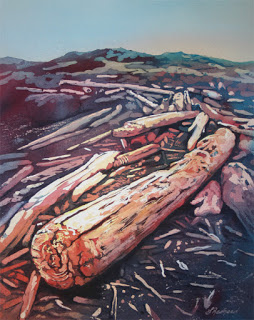 Drifting In Color
poured watercolor
16×20″
This past weekend I had an amazing opportunity to teach a workshop in Prince Rupert, BC as part of their Creative Jam.
For those of you that don't know about Prince Rupert, it is on the coast of Northern BC about 25 miles south of Alaska. Surprisingly the weather does not get too cold during the winter. It just rains all the time. At least that is what I was told. I was blessed to be there when the sun shone and I discovered what a beautiful place it is.
The awesome Coral of
River Walker Art
s contacted me and requested that I teach a workshop for the Creative Jam and I chose to teach pouring..
Drifting In Color
is actually a painting I did several years ago but I have always wanted to try it as a pour. Most of the participants chose to follow me but a few did other subject matter.
Coral did an amazing painting which you can see
here
.
Here are some of the other paintings from some of the students: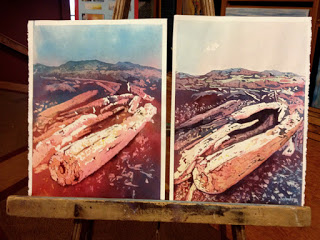 The people I met are so kind and gracious. I feel so blessed to have met each and every one of them.
I think the best part about being an artist and educator is being able to meet so many wonderful people.
Thank you for having me.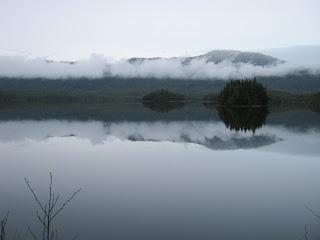 Like I said, the rain stopped for me while I was there and I was able to take awesome photos that I can paint from.
Sarah, one of the watercolorists, also graciously took me on a sunrise tour across the water to her home at Dodge Cove the last day that I was there.
Dodge Cove is on an island across from Prince Rupert.
You can only get there by boat and boasts about 40 residents during the summer months. Less in the winter.
I can not tell you enough how wonderful and beautiful this area is and awesome the people were to me.
Thank you Sarah for taking me on the tour of the harbor and Dodge Cove.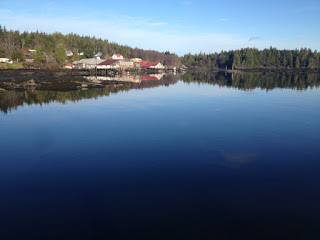 View of Dodge Cove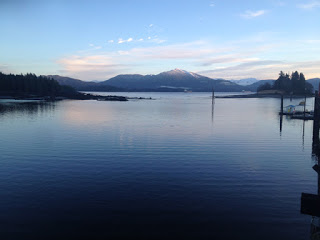 View from Dodge Cove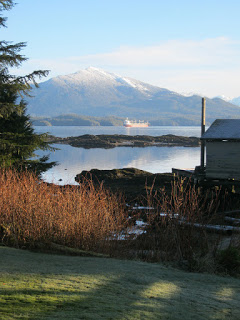 Another view from Dodge Cove