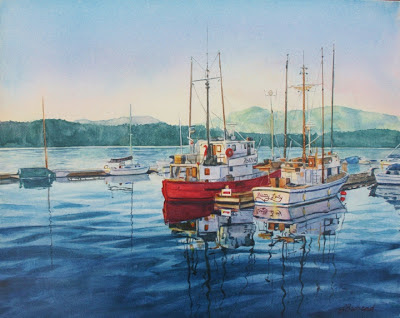 Pretty Ladies
Watercolor on aquabord
16×20″
Pretty Ladies is another watercolor that I did on the aquabord. It is of Cowichan Bay on Vancouver Island, BC. It sold as soon as I completed it and sent it off to Madrona Gallery.
This past year I have done a few paintings of boats and reflections.
Since I have enjoyed it so much, I decided it was time to teach how to paint them in watercolor.
I will be teaching a one day course through the North Vancouver Community Arts Council on June 1.
The course is being held at Maplewood House.
More information can be found
here
.
The NVCAC also did up a beautiful poster for the class.
Here it is: