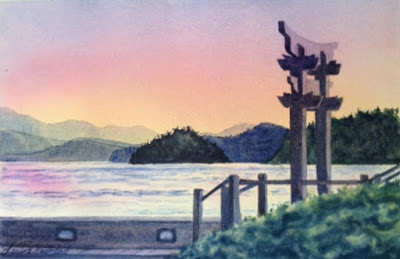 April Point Resort
Quadra Island, BC
7×10″
This is another painting that I did with my class on watercolor washes. The sky is a wet in wet gradated wash.
The distant island as well as the posts were done as a flat beaded wash. The closer islands and the foreground foliage was a wet in wet wash.
The image is taken from a photo of Discovery Passage.
April Point Resort and Spa
on Quadra Island (which is off the coast of Vancouver Island, BC) is a place that I often teach workshops. It is a beautiful location with lots of wildlife. The orca (or killer) whales are often seen passing through here. There are many fabulous whale watching tours and fishing trips to be taken.
I will be returning to
April Point
on May 30-June 1 to teach a course called Fun with Watercolours. We will be painting a heron and pouring a beautiful background to go along with it.
I will also be teaching a course called Fun and Free Watercolours just the 2 days before that (May 28-May30) at
Painter's Lodge
in Campbell River, BC on Vancouver Island.
Painter's Lodge
is seen directly across the passage from April Point Resort. This course is a fun approach to landscapes.
The price for each course plus a 2 night stay is only $199/person.
For more information, please click
here
.
To register, please contact Oak Bay Marine Group by calling 1.800.663.7090