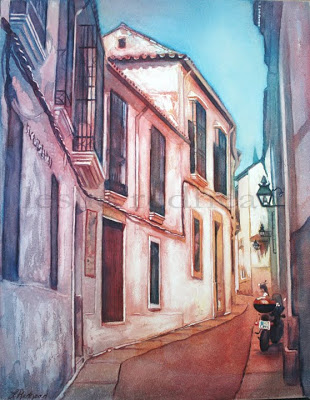 Cordoba, Spain
watercolor on clayboard
11×14″
$600 CND
This is my latest painting of Spain. It is watercolor on clayboard. Clayboard has a great texture and the best part is that it doesn't need to be framed under glass!
I started with a couple of pours of color then painted in the darks. To do this, I first saved the whites with a resist (masking fluid, which is a latex) then I poured liquid watercolor across the surface. After the paint dries, I mask the next value, then poured again to get that beautiful glow. I did this only 3 times before I painted in the darker values.
I am quite pleased with the orange glow because to me, Cordoba had that beautiful warm glow throughout the city. I think this is because of the color of the buildings as well as the canvas that is strung between the buildings to create shade.
Cordoba was one of my favorites places that I visited while in Spain. I would love to spend several days there getting lost and exploring the city. It was all so magical.