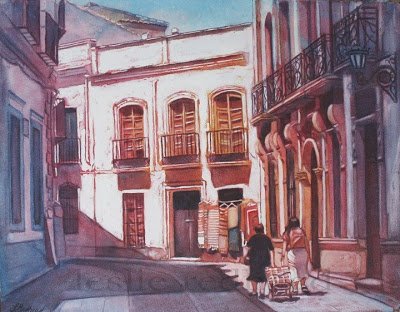 Ronda, Spain
watercolor on clayboard
11×14″
$600 CND
This is another painting done on clayboard. I started this one the same way that I started the Cordoba painting in my previous post. I first saved the whites (using masking fluid) then I wet the board poured liquid watercolor across the surface. After it dried, I saved my light values and did the process all over again. After a couple of pours, I lifted the masking fluid and painted in the darker values.
This is a process that I have not used on the clayboard before. What I discovered is that my pencil lines are lost very easily and it is hard to redraw them on the clay. I ended up having to draw with the paint trying to figure out some of the areas on the right hand side. That is really not much different than drawing with a pencil. It is just in color.
The clayboard has a wonderful pebbly texture that lends itself well to the texture of the buildings.
Painting into the clay is similar to painting a fresco.
The best part is that I seal it with an acrylic varnish and it isn't framed under glass.