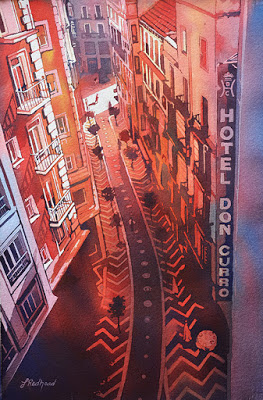 Hotel Don Curro
poured watercolor
14×21″
The weekend started with a tour of the Daniel Smith paint factory on Friday night where some of the most wonderful watercolor paint in the world is made. It was exciting to meet the people behind the yummy and beautiful paint and to finally meet the artists and organizers of the Northwest Watercolor Society. I have seen some of their work over the years and have corresponded with others. It is always nice to put a face to the name. And thank you to Daniel Smith for being so generous to let us tour their factory and tell us their story.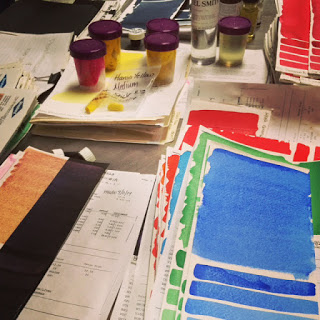 Sample paint tests in the chemical lab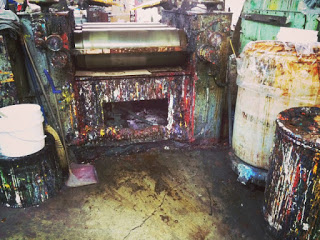 Where the paint is milled to get its creamy consistency
I had the noon time pouring watercolor demo out on the patio. I'm such small potatoes in the world of watercolor so when I was first asked to demonstrate, I thought that I might get 10-20 people popping their heads in to see what it is that I do. To my surprise, my mini-workshop (which also happened to be a hands-on demo) was one of the first to fill with 50 people! I was shocked! And extremely nervous! This was no longer a small deal but a very BIG deal! I spent the week before frantically preparing for the demo and trying to figure out how to make it hands-on with 50 people and 45 minutes. AAAAAAAA!
However, I think I was able to figure it out and ended up invited people on stage to help me with the demo. It ended up being a blast! I had someone wet the paper, another person pour, and finally someone tilt the paint into the bucket. I was just the art director guiding these other watercolorists through the process. I was able to relax and enjoy myself and the attendees. The above painting, Hotel Don Curro, which is in Malaga, Spain, is the finished painting from the demonstration. After my time to shine was over with, I was able to attend all the other workshops and learned some new tips and techniques for my own practice.
After the convention, there was a reception at the Washington State Convention Centre where the NWWS exhibit and my painting, Splash of Red, was on display. Unfortunately I completely forgot to get my photo taken with my painting! and I don't have any photos of my demonstrating either:( So if you happened to have been there and have a photo of me demonstrating, would you mind sending me a copy?
I do feel honored that my painting was chosen to be among so many incredible pieces of art. It was extremely humbling. In fact, the whole experience was humbling to realize what great pieces of art and artists are out there.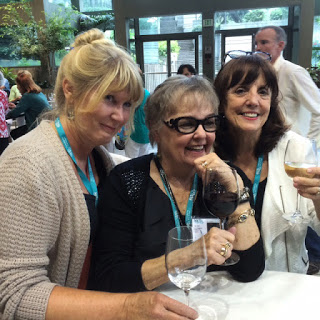 Birgit O'Conner, Judy Morris, and Marcia Giant at the NWWS reception
Finally, we finished off the evening with dinner and awards ceremony at the hotel.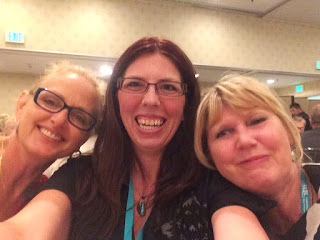 Sam Boehner, ME!, and Birgit O'Conner
The most important thing about the event was that I had fun. I would do it again in a heartbeat and hope that such an event will be held again next year.